The other day I noticed we had
some beautiful hydrangeas
blooming in our side yard.
So, I retrieved a pretty cobalt
glass vase and cut a nice
My husband wants to
know where his wife is.
I'm so not a green thumb.
I rarely notice garden
items or make time for them.
This weekend, even in the
middle of my office/studio/craft room
makeover, I stopped to smell
the ....well, the hydrangeas.
me giggle, especially since
admit, I DO notice roses.)
Here is what I hope to accomplish
this week.... finish office. Send out
a email alert for Bella Rosa.
Do I smell a sale coming up?
the hydrangeas along the way!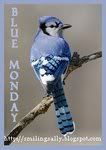 at Serendipity and Spice.
and
Junkin Joe Vintage Thrifty Finds
at
The Cottage Market
And Fishtail Cottage
Garden Party